Special message regarding COVID–19 and US Retail Share Fund Support: We are all experiencing unexpected challenges in our daily lives related to the COVID–19 pandemic. If you have had your work hours reduced due to COVID–19 and are in need of financial assistance, please refer to the US Retail FAQ sheet for actions you can take. Depending on the severity of COVID-19 impact on you or immediate family members you may be eligible for a grant. This could be as a direct result of a COVID–19 illness or significant financial hardships resulting from the pandemic.
Please find more information below by clicking "apply for a grant."
About the US Retail Share Fund
US Retail Share Fund, founded and funded by associate and corporate contributions, offers relief for associates in need of severe financial assistance due to significant qualifying events such as: natural disasters, catastrophic personal events or other circumstances beyond their control.
All current, full-time and part-time US Retail associates are welcome to apply. Our associates and their well being are extremely important to us, and that's why we do our very best to respond to and fulfill grant requests promptly.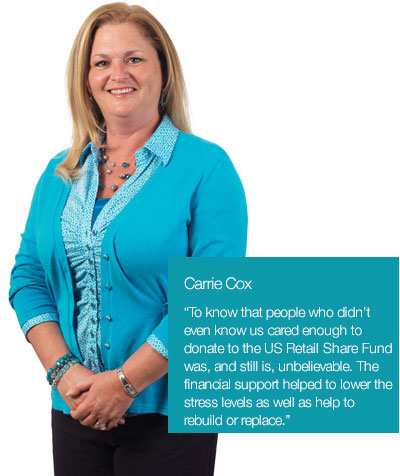 Donate to the cause.
Choose the method that works best for you.
| | |
| --- | --- |
| • | Sign up for payroll deduction |
| • | Make a one-time donation through PayPal |
| • | Mail a personal check to the US Retail Share Fund |
Donate
Apply for a grant.
We're here to help in your time of need.
If you're a US Retail associate who has experienced a significant qualifying event and are facing severe financial hardship, the Staples Share Fund can help.
Apply